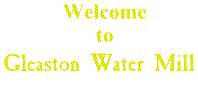 Gleaston - Nr Ulverston,
Cumbria - LA12 0QH
England
+44-(0)1229-869244
info @ watermill.co.uk
Weather Page
............... tucked away in a tranquil valley in rural Furness. Our north - south valley provides wonderful shelter from prevailing winds and enhances the special microclimate enjoyed by the Lake District Peninsulas of Furness and Cartmel. We benefit from the warmth of the Gulf Stream and rarely have a frost. When it's wet and windy on the Lakeland Fells it can be warm and tranquil at Gleaston Water Mill.