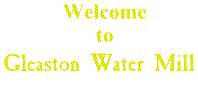 Gleaston - Nr Ulverston,
Cumbria - LA12 0QH
England
+44-(0)1229-869244
info @ watermill.co.uk
SITE PLAN
April 06 - checking out the site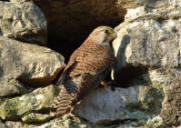 White dot shows nest location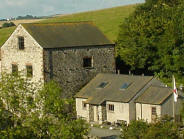 Late April
Female laid 5 eggs.
Sun 11th June 2006
Sitting on eggs
Tue 20th June 13:00
spotted odd bits of 'fluff' in the nest
- 3 chicks hatched (called Cole, Gerrard & Owen), and have just had their first feed.
2 more eggs (Beckham & Crouch) are still 'on the bench' and should get into the game over the next couple of days.
21st June late afternoon.
Crouch has finally cracked it and joined the team. Eggcellent!
21st June - morning
Beckham egg has now hatched into a fluffy chick, just leaving crouch egg on the bench - will he make it in time for the next match - watch this space???
22nd June
The chicks are enjoying frequent feeds and should be with us until late July - Keep watching their progress.
June 28th
At 1 week old the chicks are now standing and moving around. Food is coming in at least once an hour and they are growing rapidly.
June 30th
The female is beginning to leave the nest for short periods to find food, and the chicks are starting to pick at the food themselves.
The Mill Kestrels - 2006
A pair of Kestrels nested in a hole in the north wall of Gleaston Water Mill in late April 2006, and the female laid five eggs. Follow the story on this page and view some video of their progress captured by the webcam.


1st August 2006 - Soaring
Following their first flights the weather was glorious and the birds quickly adapted to their new found freedom. We still see them around the site and when it gets colder or showery they come back to roost, but they will soon be off in search of their own territories.
We hope the adults return again next year for another successful nesting season.
February 2007


The new camera box has been built, and the kestrels have been back roosting in the hole, so we are hoping for another interesting season.

The Mill Kestrels - 2007 | 2008
On the Mill roof
Watching the world
Just chilling
Can fly - will fly
Pictures by Jason Thorpe 14th April 2006
Brood of 2005
Picture: David Whitton
The videos below are triggered by the camera as the adult kestrel enters the nest with food.
The lighting varies with the sun entering the nest site and is difficult to control, but we are continuously trying to improve the picture. The videos are avi files and can be viewed with a suitable player such as Windows Media Player, which also allows the play speed to be set to 'slow' for improved viewing.
early bird
1.5 Mb
...catches worm
1.6 Mb
Elevenses
1.8 Mb
What a whopper!
1.5 Mb
Plenty for all
1.9 Mb
It's a knockout
1.63Mb
In Jail !
2.24Mb
Soon escape
4.2Mb
Long way down!
2.1Mb
...on three!
3.7Mb
To view, click and choose 'open' or 'save'
I will try to add new clips frequently so the chick growth can be seen. Last update: 11th July
If you cannot play the videos with Windows Media Player you may need to install a driver.
Click here to download a free DivX codec
Left: Well, should we jump?

Below: Come on, just flap your wings!
Pictures by Fred Baker
Kestrels first nested at the Mill last year (2005) when the female laid five eggs, all of which hatched and later flew.
----------------------------------------
July 25th
Three did fly on 23rd but the fourth waited until 25th.
They were hopping as much as flying, running up the roof and in the gutters. They are now gaining confidence, enjoying heir new found freedom, and great fun to watch. the camera will remain on the nest until they stop roosting there.
July 23rd
The young are supposed to fly between 28 & 32 days from hatching, and 23rd July is 33 days!
The adults have been calling from the adjacent trees to encourage the young out, but they are still huddled in the entrance. Sunday 23rd just has to be the day for take off.
July 15th
The chicks now have all their feathers and have been peeping out of the nest, but it's a 10mtr drop!
Would you jump?
They are so big there's not much room in the nest and it's playing havoc with the camera picture. We have plans for 2007 (see bottom of page).
July 11th
Tail and wing feathers are rapidly maturing so the chicks will be up and away on their first flights within the next few days.
July 7th
Still not sure if there are 4 or 5 chicks, but they have almost doubled in size in the last few days and the nest is crowded. The female has been roosting in the entrance at night. Within 10 days they will have changed from fluffy white to adult plumage and be ready to fly.
July 3/4 (Almost a disaster)
The nest was not monitored during Monday, and in the evening we could only see 2 chicks. A quick check through the recorded video showed one being knocked out of the nest by mum's tail - Panic!
We found 3 chicks had fallen out of the nest and were lying in a huddle on the floor, about 30cm below the nest entrance on the inside of the mill, and too high for them to get back or for the adults to rescue them. They had been on their own for hours, and although alive, one was very weak. We put them back in the nest and put a barrier to prevent them falling out again. It was late, so left them in the care of the adults hoping she would feed and care for them.
Tuesday morning we put a wire grid over the rear of the hole to prevent further accidents, and counted four young. Later in the day we have a report that all five have been seen, so we a hoping these jailbirds are back on track for a full recovery.
July 2nd
The female is now regularly hunting with the male, and the chicks are feeding themselves. One chick devoured a whole mouse on its own - Kestrels or Vultures!



<![if !vml]>
<![endif]>